Data is your most valuable asset. It represents the entire history of your organization and its interactions with customers. Predictive analytics taps this rich vein of experience, learning from it to offer something completely different from standard business reporting and sales forecasting: actionable predictions for each customer. If you predict it, you own it.
Book: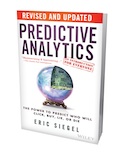 Predictive Analytics: The Power to Predict Who Will Click, Buy, Lie, or Die
In this rich, fascinating – surprisingly accessible – introduction, leading expert Eric Siegel reveals how predictive analytics works, and how it affects everyone every day


Machine Learning Leadership and Practice – End-to-End Mastery:
Machine Learning in 20 Seconds:

Access the full online course on demand
Music Video:
"Predict This!" by Dr. Data
Geek Rap Video about Predictive Analytics:

Access and share this video on:
&nbsp &nbsp
&nbsp &nbsp
Share video, download MP3, see lyrics
Conferences and Training Programs:
Deep Learning World. The premier conference covering the commercial deployment of deep learning.

Predictive Analytics World. The premier machine learning conference series — for predictive analytics professionals, managers and commercial practitioners.

Online course series: Machine Learning for Everyone with Eric Siegel. This expansive, three-course specialization will empower you to launch machine learning. Accessible to business-level learners and yet vital to techies as well, it covers both the state-of-the-art techniques and the business-side best practices.
Articles and White Papers:
Predictive Analytics with Data Mining: How It Works
Get a handle on the functional value of predictive analytics for marketing, sales and product direction. Information Management. By Eric Siegel, Ph.D.

Seven Reasons You Need Predictive Analytics Today
Predictive analytics has come of age as a core enterprise practice necessary to sustain competitive advantage. This definitive white paper, produced by Prediction Impact and sponsored by IBM, reveals seven strategic objectives that can be attained to their full potential only by employing predictive analytics, namely Compete, Grow, Enforce, Improve, Satisfy, Learn, and Act. By Eric Siegel, Ph.D.

Uplift Modeling:
Predictive Analytics Can't Optimize Marketing Decisions Without It
To drive business decisions for maximal impact, analytical models must predict the marketing influence of each decision on customer buying behavior. Uplift modeling provides the means to do this, improving upon conventional response and churn models that introduce significant risk by optimizing for the wrong thing. This shift is fundamental to empirically driven decision making. This convention-altering white paper, sponsored by Pitney Bowes Software, reveals the why and how, and delivers case study results that multiply the ROI of predictive analytics by factors up to 11. By Eric Siegel, Ph.D.

Six Ways to Lower Costs with Predictive Analytics
This article delivers six ways predictive analytics lowers costs without decreasing business, thus transforming your enterprise into a Lean, Mean Analytical Machine. Example brand-name case study results are provided along the way. From BeyeNETWORK. By Eric Siegel, Ph.D.

Predictive Analytics Delivers Value Across Business Applications
This article summarizes the wide range of business applications of predictive analytics, each of which predicts a different type of customer behavior in order to automate operational decisions. A named case study is linked for each of eight pervasive commercial applications of predictive analytics. Originally published on BeyeNETWORK. By Eric Siegel, Ph.D.

Driven with Business Expertise, Analytics Produces Actionable Predictions
Run data mining as a business activity to generate customer predictions that will have a business impact. CRM Magazine's DestinationCRM. By Eric Siegel, Ph.D.

Predictive Analytics' Killer App: Retaining New Customers
Predictively targeted discounts convert new customers who would otherwise never return into loyal customers. DM Review's Extended Edition. By Eric Siegel, Ph.D.

Customer Retention with Predictive Analytics: How Profitable Is It?
This article provides a detailed look at the bottom line results of targeted retention. By Eric Siegel, Ph.D.
[ How predictive analytics works ] [ The results you will get from predictive analytics ]